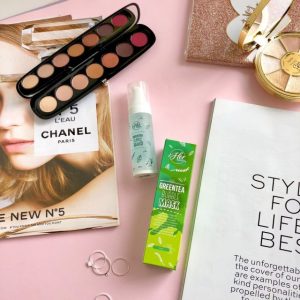 Kelebihan GREENTEA BUBBLE MASK
🌷 Mengangkut keluar kotoran yang menyumbat pori wajah
🌷 Memberi kesegaran, kelembapan dan kelembutan pada kulit wajah
🌷Menjadikan kulit wajah lebih sihat, glowing dan lebih cerah!
🌷 Membantu menyingkirkan sel kulit mati dan kusam tanpa penggelupasan dan mengeringkan kulit
🌷 Mengurangkan muka berminyak sekaligus dapat menghalang pori muka tersumbat yang boleh menyebabkan kehadiran jerawat
🌷 Melambatkan proses penuaan & garis-garis halus pada muka
🌷 Terbukti mengecutkan & mengawal kehadiran jerawat pada kulit wajah
🌷 Menghilangkan lebam bawah mata
🌷 Memberi lebih nutrisi pada kulit wajah supaya sentiasa kelihatan awet muda
Kandungan didalam Greentea bubble mask🍃
🌿 Glycerine
🌿 Magnesium Aluminium Silicate
mineral derived from clay
sebagai moisturizer for skin!
🌿 Titanium dioxide
sumber mineral sebagai pencerah, penebal dan pelindung dari sinaran UV . considered to have no risk of skin sensitivity!
🌿 pineapple extract
anti-aging, boleh menegangkan kulit.
enzim dlm nenas (bromaelin) boleh mengangkut sel2 mati dari kulit.
🌿 Passion fruit extract(markisa)
vitamin c, karoten, riboflavin, mineral, dan juga anti-oksidan. mampu untuk mengencangkan kulit, meningkatkan sirkulasi sel darah merah, dan mengurangkan atau mencegah kedutan pada wajah.
🌿 Greentea extract
boleh hilangkan jerawat dan parutnya.
hilangkan kantung mata (eyebag) dan atasi kulit kering
🌿 sugarcane extract
Glycolic acid berfungsi untuk mengangkat sel-sel kulit mati pada permukaan kulit.
ekstrak tebu mengandung anti radang dan antiseptik which dapat digunakan untuk menghilangkan jerawat pada wajah, serta memudarkan noda hitam bekas jerawat.
mencerahkan kulit (rangsang sel baru)
🌿ascorbic acid (vitamin C)
bertindak sebagai pengeluar kolagen dan protein.
melindungi kulit dari sinar UV(mengurangkan selaran matahari)
Cara Pengunaan Greentea Bubble Mask🍃