24k Gold Flakes, Argan Oil, Rosehip Oil, Olive Oil .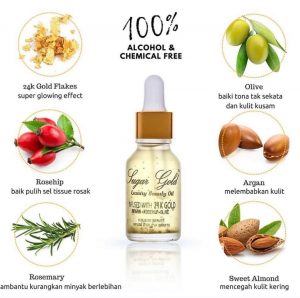 Formulasi terbaik abad ini dengan empingan Emas 24K untuk memberi impak kulit yang 'Super Glowing' secara natural ala-ala selebriti.
Argan Oil meresap dan melembapkan kulit secara maksimum dan cepat.
Rosehip Oil kaya dengan anti oksidan yang membantu melambatkan proses penuaan.
Sugar Gold sesuai digunakan sebelum atau mix with your faveret foundation untuk efek yang 'meletop'
Apa yang best sangat Sugar Gold ni ? .
✨Daily Moisturizer, takde dah kulit kering kontang, kusam and boring.
✨Muka 'Super Glowing' ala-ala selebriti
✨Makeup tampak 'Exclusive' & 'Mahal'
✨Sebagai 'base' untuk makeup (primer)
✨Tiada lagi Makeup bercapok bak badut
✨Tiada lagi Makeup retak seribu atau dua ribu
✨Tiada lagi bibir yang kering dan pecah (drops atas bibir before guna lipstick)
✨Tiada lagi makeup hancur selepas 2 jam. Makeup tahan lama, lebih 18 jam selagi tak mandi
✨Mix dengan Foundation faveret anda untuk mudah 'blending' , tak der dah nak stress foundation susah blend/pekat bagai
✨Membantu melambatkan penuaan
✨Kulit kembali muda remaja . .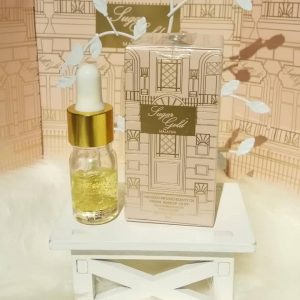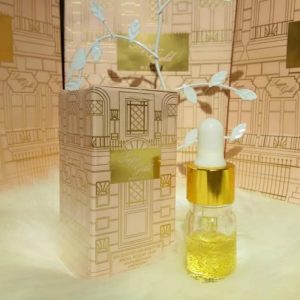 PENGUNAAN SUGAR GOLD FACE OIL
* 1-2 Titis sudah mencukupi, tak perlu banyak-banyak.
Sangat JIMAT ok
* Boleh apply siang & malam
MERAWAT kulit kusam, kering, jerawat, oily semua
Juga Terbaik sebagai makeup base
Harga sugar gold oil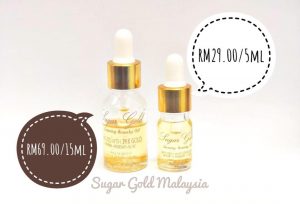 NAK ODE ? WASAP 0132829456