FIRST BRIGHTENING MOISTURIZER DI MALAYSIA DENGAN KEMAMPUAN MELEMBAPKAN KULIT SEHINGGA 72 JAM!
.
TRUSKIN HYDRA BRIGHTENING MOISTURIZER. The first local water gel moisturizer dengan benefits yang bukan biashe-biashe! Yesss! Brightening and hydrating at the same time
.
KENAPA WAJIB GRAB TRUSKIN HYDRA BRIGHTENING MOISTURIZER?
Kulit kering,
kusam,
jerawat tumbuh bak cendawan lepas hujan,
parut bersepah!
Skin nampak tua dari usia. Oh no! 😣
Moisturizer Water Gel PERTAMA di MALAYSIA yang bagi kesan TRIPLE ACTION :
1. Moisturizing up to 72hours
2. Brightening
3. Whitening
Packaging dan quality international dgn harga lokal yg tak masuk akal!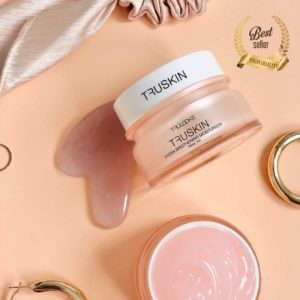 Water gel no.1 Malaysia yang buat korang feeling macam pakai Moisturizer brand heff heff! Dah selevel dengan Dior!Laneige!Lancome!
APA INGREDIENT MOISTURIZER TRUSKIN NI?

Bahan dalan truskin moisturiser ni diimport dari Korea, Jepun, Switzerland, Italy dan France!
Semua ingredients bukan cikai2.Max hydration + mencerahkan + memutihkan secara sehat.

HYALURONIC ACID
untuk boost skin moisture dan promote to much more healthy skin.
SACCHARIDE ISOMERATE
kelembapan 72 jam. kurangkan wrinkle/ anti-aging
KOJIC ACID
mengurangkan kesan dari sinaran UV, dan mencerahkan kulit.
NIACINAMIDE
WANTED INGREDIENTS utk yang nak kurangkan parut, kecilkan pori dan kurangkan kulit kusam.
SALICYLIC ACID –
also known as BHA, ingredients penting untuk fight acne atau jerawat, blackhead dan whitehead, minimize pores.
TRUSKIN MOISTURISER ADA BAU TAK?
Bau macam masuk SPA 5 bintang
✨ fresh calming soft refreshing! Fragrance yg heff heff ni diimport khas dari France 🇫🇷 !
TRUSKIN MOISTURISER SESUAI DENGAN JENIS KULIT APA?
Sesuai utk semua jenis kulit especially utk dry skin dan jugak oily skin.
TRUSKIN MOISTURISER ADA KKM KER? SELAMAT KER?
Semestinya ada KKM approved.
❌Hydroquinone
❌Paraben
❌Mercury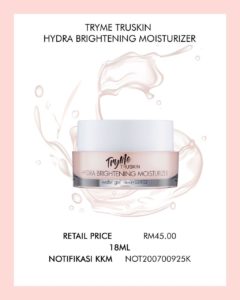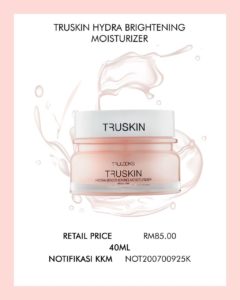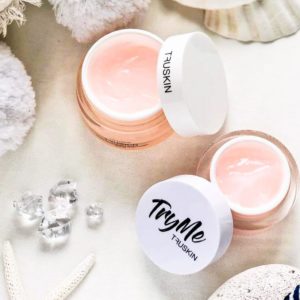 FEEDBACK OR HONEST REVIEW DARI PENGGUNA TRUSKIN PRODUCT